Montevideo neighborhood whose key Avenida 18 de Julio, from Independence Square to the street known as Centro Ejido.It originates in what was formerly known as New City, referring to urban development beyond the already existent walls of the old colonial urbanization: Old Town.The high concentration of services, public and private offices, shops, cinemas and theaters, making it one of the liveliest areas of the city.Avenue July 18 was conceived as the centerpiece of the New Town, the first expansion of the colonial town, which for its symbolism and soil management represented the liberal and progressive ideology of the independent state
La rambla de Montevideo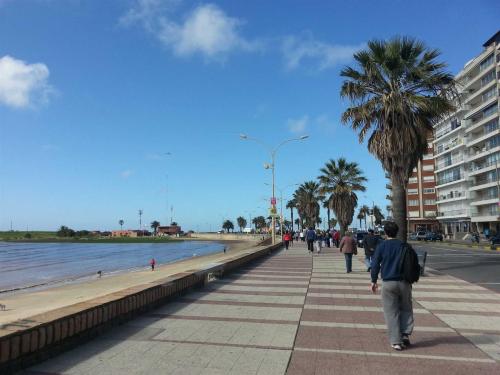 It constitutes both a major traffic route and south of the Bay of Montevideo, pedestrian walk. It is bordered by numerous beaches, among which are: Ramírez, Pocitos, Diving, Malvín, Carrasco. It is part of the montevideana same identity. For this reason, it has been declared a historical monument. In early 2010, it has been proposed for the list of World Heritage of UNESCO.
Old City
Today, the Old City is a neighborhood in Montevideo.populated companies, government ministries, banks are, and in recent years has undergone a major transformation that has become the nocturnal city center.It is densely populated by nightclubs, discos and pubs, for citizens and tourists.The Old City holds the most beautiful buildings of the colonial era or the first decades of independence.including the National Museum Torres García, the Cabildo and Decorative Arts (installed in Taranco Palace): the Cabildo (built between 1804 and 1812), the Teatro Solis, the Mother Church and several museums highlights.
Casino
Montevideo offers a variety of game rooms to maximize your entertainment. Located in different areas of the city, near three casinos find our hotel easily accessible. Equipped with the latest generation of Slots, Rouletas, Blackjack and others, surely you'll love visiting these spaces that offer not only gambling opportunities but also include live music and fine dining options.